Product Description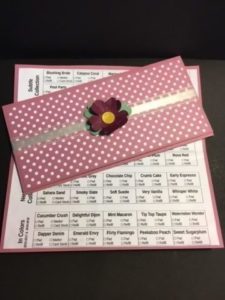 This is the PDF of the New Color Keeper. This Color Keeper looks more like a long wallet and fits nicely into the cover or inside of the Catalog & Idea Book. It contains both the 2015-2017 and the 2016-2018 new In Colors. It helps you keep track of your inventory of card stock, inkers, markers and ink pads. The download, when printed has instructions at the bottom on how to cut the card stock and paper so it folds nicely and not over any wording. It is designed for it to be used for a class or for demonstrators to make and give to their customers or downline as gifts.
The PDF file will be emailed to you upon completion of the order. It is sent automatically to the email address you provide when ordering (the one you used at PayPal). All email addresses are confidential. None are ever collected for any reason nor are they sold. Personally I don't even know how to go in the program and get them so trust me they are extremely safe!!!
THE COLOR KEEPER WILL BE AVAILABLE LATER TODAY. PLEASE STOP BACK.