Product Description
Th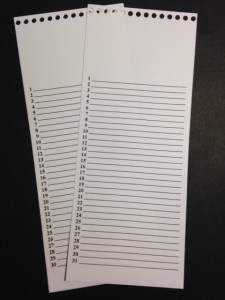 ese fun perpetual calendar pages measure 8-1/2″ long by 3-1/2″ wide.  This PDF has 5 pages with 3 calendar strips on each page.  There are two that can be used for Februrary.  One has 28 days listed and there is one that has 29 days listed, so the choice is yours when making up the calendars.
You can bind them together any creative way you can think of.  But word to the wise.  Binding them after you stamp on them is easier.
Cutting tip: Cut the first calendar at 3-3/4″.  Cut the center one at 3-1/2″ and then trim the wide edge of the first and last calendar so they measure 3-1/2″.
You can print out as many as you like for making as gifts or to sell as decorated calendars.  You may not print and sell blank pages.  Though you can print and sell assembled pages. You can print and cut blank pages for your Stamp Camp projects or other stamping projects.
This an instant download.  Once payment is received you will get the activation notice for you to download the calendar.
The pages pictured here were printed out on white card stock.  You can print it on whatever your printer will allow you to use.
$3.00 Add to cart