Description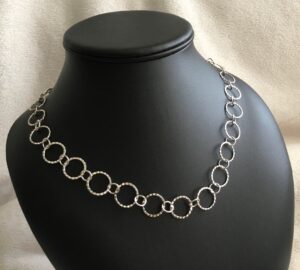 This necklace was made using 18 gauge Silver-filled wire. Silver filled is in the middle of the silvers. There's silver plating that usually chips off and exposes the base metal under it. Silver-filled is a more reasonable priced silver option. There is the base metal but it's got many layers of silver over it. And then you have solid sterling silver. Silver-filled is not as soft as solid sterling silver and can withstand a bit more handling.
This silver-filled necklace measures 21″ long and has a sterling silver lobster clasp. Each ring was soldered, hammered, textured and joined together by soldering a handmade jump ring to each large ring. It was buffed and then tumbled to a bright shine.
The larger textured rings are just a bit smaller than a dime. They measure 15.4mm.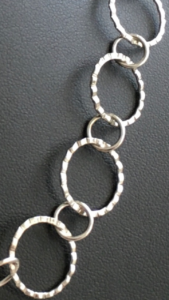 It will be shipped in a safe container within a bubble envelope and it will also be in an antitarnish bag.
Shipping is based on zip code and there is not handling or added shipping fees.
Please feel free to contact me if you have any questions.
Thank you,
Wanda